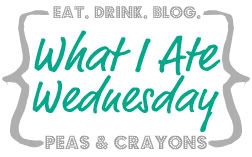 Geezz... is it me or does time fly?? Maybe it's just because I've been having a whole lotta fun?? Haha possibly. Or maybe it's just because this is my work week. Why I heart Wednesdays: WIAW (Thanks
Jenn
)- love getting new food ideas, it's my Friday again (off for 8 days!!), & looking forward to a for sure eventful weekend.
Breakfast: Mint Chocolate Chip Overnight Oats & H2O. Kicks my sweet tooth craving.

1/4 Cup Rolled Oats

1/4 Cup Sweetened Vanilla Almond Milk

1 or 2 Drops Peppermint Extract

A little Maple Syrup to Sweeten

Chocolate Chips

Lunch:
Ezekiel bread toasted, red pepper & eggplant spread (the shiz), avacado, and horseradish & chives havarti cheese. H2O.
Snack:
I was introduced to these little Koala cookies by
Carolyn
(she used to eat these as a kid in China). They are to die for. She brought me a box. Demolished in 5 minutes.
Dinner: Flatbread veggie pizza - perfect easy meal for a tuckered out me.
Let's get this week off started!! Also on my agenda:
1) Finding Christmas decor for my Tacky Christmas Sweater Party. I think this is a must.
2) Catching up & shopping with my long time friend before she gets married. After being bests for 19 years, I can't believe this day has come. Awwww.. :') Happy tears.
3)
Gotta go see
Immortals
at some point - looks 300-esque and has Henry Cavill. I think yes. (Loved this guy since
The Tudors
. Enjoy ladies.)