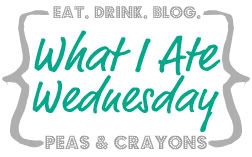 Ahhh ... here it is again. Wednesdays come so quickly don't they?? But, they are beginning to become one of my fave days of the week. Thanks
Jenn
for hosting another WIAW party!! Let's get to it.
Breakfast: Overnight oats with dried cranberries, flaxseed meal, cinnamon, and pomegranate seeds & a big glass of H20. Such a great way to start a workin day.
Lunch: Italian Lentil Soup with homemade croutons & H20.
Snack: A combo of walnuts, pecans, almonds, brazil nuts, pumpkin seeds, and chocolate chips.
Dinner: Caesar Salad with homemade croutons, tomato & basil cheddar cheese, and olives... aka.. I'm lazy and don't wanna cook & H20.
I know this is hump day for most folks, but it's my Friday!! Yahoo... can't wait to sleep in, wake up whenever, and enjoy a nice cup of tea and take in all that is FALL. As I've said before - it's the little things. :)
What 'little things' do you look forward to on your days off??